● Wider Running Range
Thanks to the inverter and EVI technology, the Sunpro Series Heat Pump features a wide operating temperature range to provide space heating, cooling, and domestic hot water.It can reach the high water temperature in a cold climate and work stably at ambient temperatures as low as -25℃.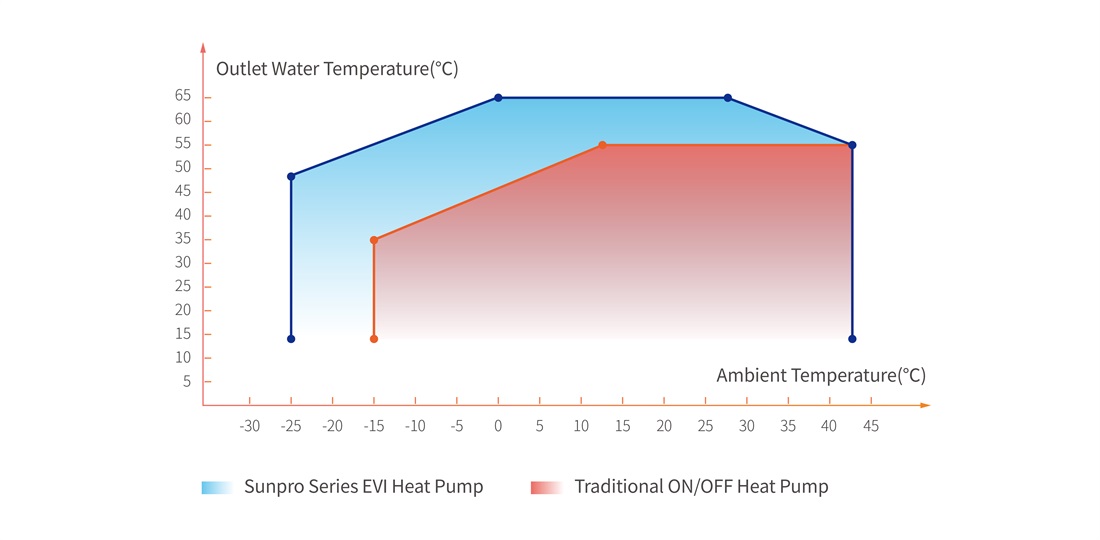 ● Increased Efficiency
With a maximum COP of 6.15 and an ErP rating of A+++, the Sunpro Series EVI DC inverter heat pump can charge and recirculate more efficiently. It consumes less energy and therefore helps families reduce heating bills.

● Wi-Fi Smart Control
With Wi-Fi function, the users control the heat pump anywhere and anytime: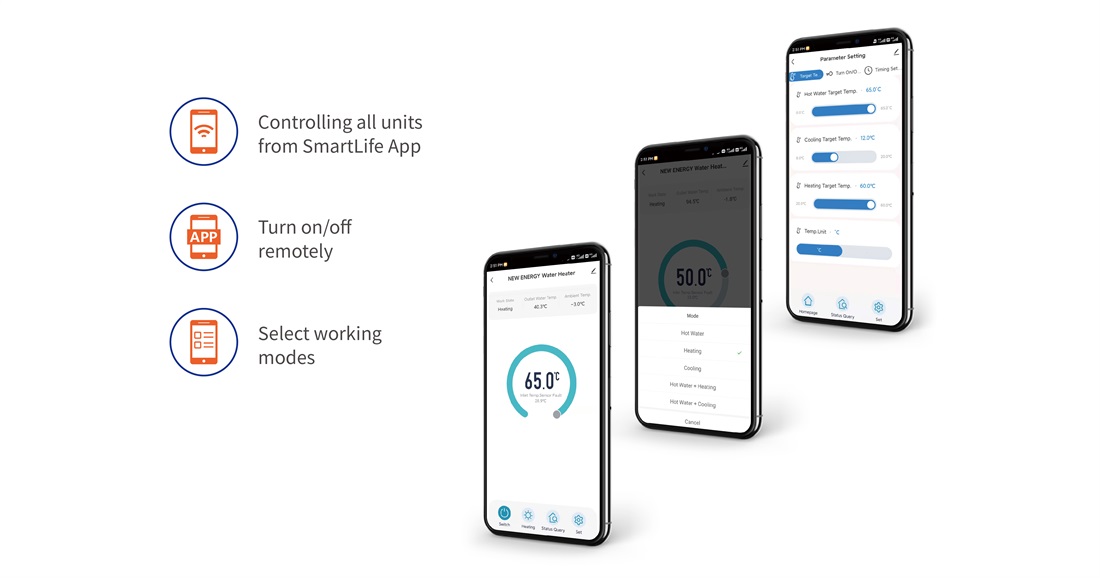 ● Full DC Inverter Technology
The Sunpro Series heat pump combines a full DC inverter twin-rotary compressor with an inverter brushless motor, so the unit can adjust target temperature automatically, to bring users maximum comfort at the lowest costs.

● Intelligent Water Temperature Adjustment
The unique control logic enables Sunspro Series to adjust the outlet water temperature intelligently, according to the real-time ambient temperature. Therefore, the heat pump can deliver heating, cooling, and domestic hot water at a constant temperature.
●Touch Screen Color LCD Display
The 4-inch color LCD display can be installed on the wall. Featured with 0.5°C precise temperature control, water temperature curve display, easy timing, one-key mute, one-key faster heating, etc, it is very user-friendly.
●Super Low Noise
In addition to brushless DC inverter fans, the Sunpro Series evi heat pump adopts reinforced sound reduction measures such as the dual shock absorption by the famous-brand compressor. The sound levels start as low as 42dB(A), making itself the quietest system in our DC inverter lineup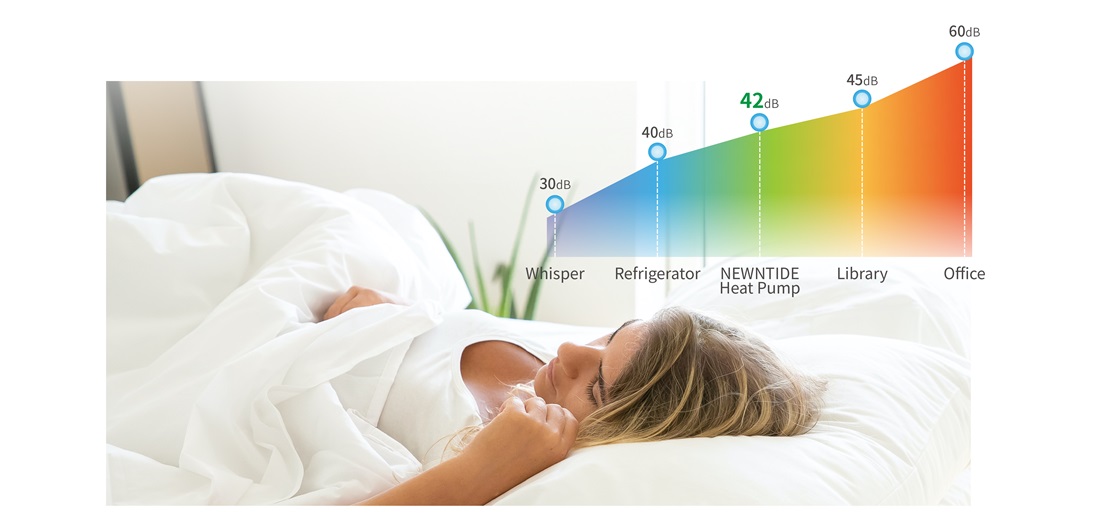 ●EVI Technology
EVI stands for "Enhanced Vapor Injection" and is a technology used on our low-temperature heat pumps to achieve higher performance at lower temperatures as down as -30°C. With EVI technology and inverter compressor, the Sunpro Series can work stably and remain high efficiency.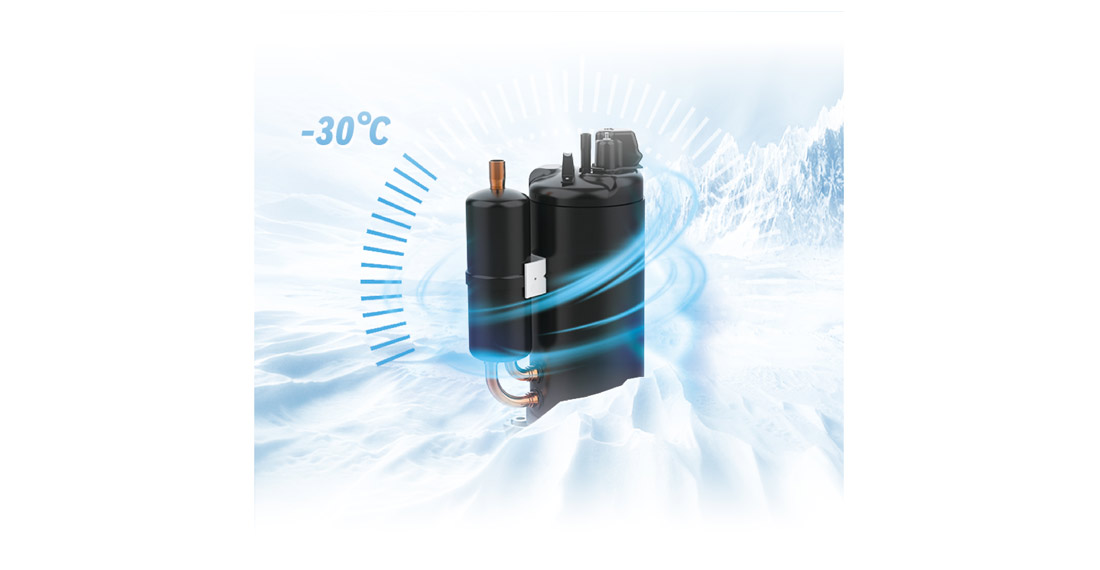 ●Wide Application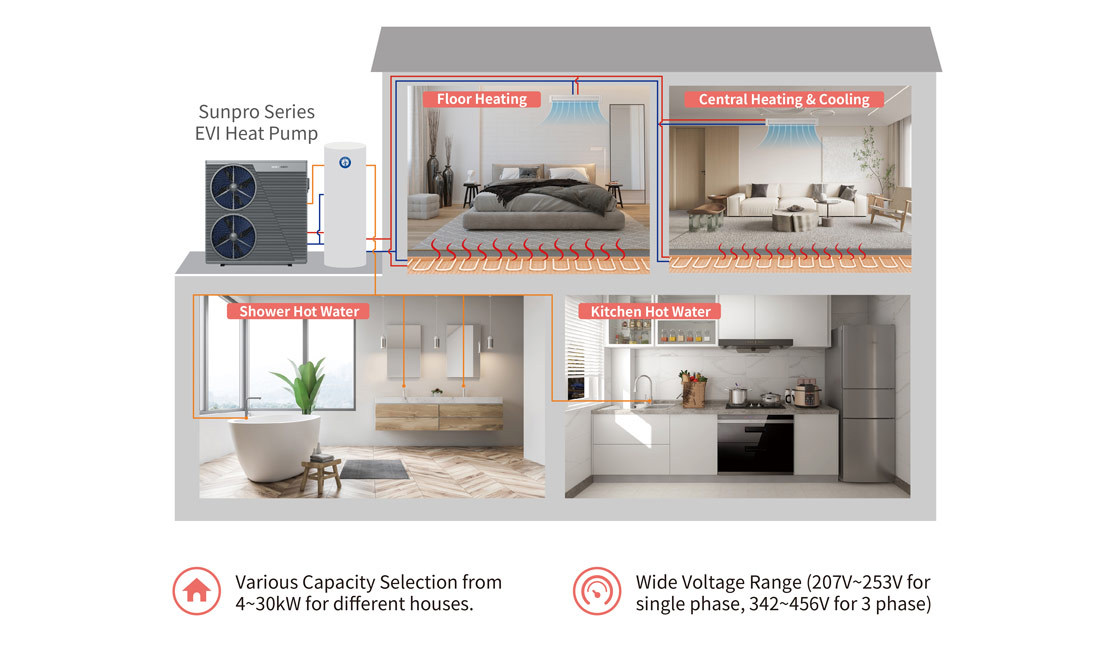 Model: NE-F
40HCR4INEM


60HCR4INEM

90HCR4INEM

130HCR4INEM

160HCR4INEM

Power Supply (V/Ph/Hz)

220-240V~/50Hz

380-415V/3N~/ 50Hz

Refrigerant Type

R32

[Space Heating] Ambient Temperature (DB/WB): 7°C/6°C, Water Temperature (Inlet/Outlet): 30°C/35°C.

Max. Heating Capacity (kW)

1.69~4.12

1.73~6.06

2.32~8.65

3.53~12.76

4.81~16.05

Power Input (kW)

0.27~0.88

0.28~1.31

0.38~1.88

0.58~2.83

0.81~3.67

COP

6.15~4.65

6.13~4.61

6.06~4.59

6.01~4.51

5.89~4.37

[Space Heating] Ambient Temperature (DB/WB): 7°C/6°C, Water Temperature (Inlet/Outlet): 50°C/55°C.

Max. Heating Capacity (kW)

1.09~3.52

1.12~5.29

1.81~7.83

2.38~10.86

2.82~14.12

Power Input (kW)

0.25~1.32

0.26~2.03

0.43~3.05

0.58~4.31

0.64~5.34

COP

4.32~2.65

4.24~2.61

4.15~2.56

4.11~2.52

4.37~2.64

[Space Cooling] Ambient Temperature (DB/WB): 35°C / -, Water Temperature (Inlet/Outlet): 12°C/7°C.

Max. Cooling Capacity (kW)

0.95~3.41

0.97~4.86

1.43~7.17

2.06~10.33

2.63~13.16

Power Input (kW)

0.20~1.22

0.21~1.76

0.32~2.67

0.46~3.89

0.59~5.02

EER

4.61~2.79

4.55~2.75

4.45~2.68

4.43~2.65

4.41~2.62

[Hot Water] Ambient Temperature (DB/WB): 20°C/15°C, Water Temperature from 15°C to 55°C.

Max. Heating Capacity (kW)

4.91
7.32
10.37
15.31
19.25

Power Input (kW)

1.01
1.51
2.15
3.21
3.98

COP

4.83

4.83

4.82

4.76

4.83

ErP Level (35°C)

A+++


ErP Level (55°C)

A++


Electric Heater Rated Input (kW)

3

Max. Power Input (kW)

4.4(1.4+3)

5.1(2.1+3)

6.1(3.1+3)

7.5(4.5+3)

8.8(5.8+3)

Max. Running Current (A)

20(6.3+13.7)

23.2(9.5+13.7)

27.8(14.1+13.7)

34.1(20.4+13.7)

23.8(10.1+13.7)

Circulating Pump

Built-in

Fan Motor Type

DC motor

Water Side Heat Exchanger

Plate Heat Exchanger (Danfoss)

Air Side Heat Exchanger

Finned Heat Exhanger

Expansion Tank Volume (L)

2
5

Display

4-inch Colored Touch Screen

Wi-Fi Function

Yes

Rated Water Flow (m³/h)

0.7
1
1.6
2.1
2.7

Water Pressure Drop (kPa)

15
17
20
22
24

Water Pipe Connection

1"

1"




1 1/4"

1 1/4"




1 1/4"




Sound Pressure Level at 1m dB(A)

42~52

42~53

43~54

43~55

44~55

Operation Range (°C)

-25~43

Max. Outlet Water Temperature (°C)

60

Water Proof Class

IPX4

Electricity Shock Proof

Ⅰ

Net Dimensions (L×W×H) (mm)

1150×450×695

1338 x 450 x 870

1338 x 450 x 1320
Model: NE-F

180HCR4INEM

Power Supply (V/Ph/Hz)
Refrigerant Type

R32

[Space Heating] Ambient Temperature (DB/WB): 7°C/6°C, Water Temperature (Inlet/Outlet): 30°C/35°C.
Max. Heating Capacity (kW)

6.15~18.33

6.36~20.44

Power Input (kW)
COP

5.87~4.33

[Space Heating] Ambient Temperature (DB/WB): 7°C/6°C, Water Temperature (Inlet/Outlet): 50°C/55°C.
Max. Heating Capacity (kW)

3.41~17.69

4.41~20.09

4.67~22.27

5.34~26.89

Power Input (kW)

0.89~7.04

1.01~7.61

1.04~8.66

1.25~10.54

COP

4.32~2.51

4.34~2.64

4.28~2.57

4.27~2.55

[Space Cooling] Ambient Temperature (DB/WB): 35°C / -, Water Temperature (Inlet/Outlet): 12°C/7°C.
Max. Cooling Capacity (kW)

3.31~16.82

3.80~19.01

4.37~21.85

5.03~26.39

Power Input (kW)

0.76~6.44

0.88~7.23

1.02~8.40

1.19~10.11

EER

4.36~2.65

4.32~2.61

4.31~2.63

4.25~2.60

4.23~2.61

[Hot Water] Ambient Temperature (DB/WB): 20°C/15°C, Water Temperature from 15°C to 55°C.
Max. Heating Capacity (kW)
21.60
23.95
27.73
31.07
37.52
Power Input (kW)
4.54
5.05
5.74
6.52
7.95
COP

4.75

4.74
4.83
4.76
4.72
ErP Level (35°C)
A+++

ErP Level (55°C)
A++

Electric Heater Rated Input (kW)
3
Max. Power Input (kW)

10.2(7.2+3)

11.5(8.5+3)

12.7(9.7+3)

14.7(11.7+3)

Max. Running Current (A)

26(12.3+13.7)

28.3(14.6+13.7)

30.4(16.7+13.7)

33.9(20.2+13.7)

Circulating Pump

Built-in

Fan Motor Type

DC motor

Water Side Heat Exchanger

Plate Heat Exchanger (Danfoss)

Air Side Heat Exchanger
Finned Heat Exhanger
Expansion Tank Volume (L)
5
8
Display

4-inch Colored Touch Screen

Wi-Fi Function

Yes

Rated Water Flow (m³/h)
3.1
3.4
4
4.4
5.24
Water Pressure Drop (kPa)
26
28
30
31
33
Water Pipe Connection

1 1/4"

1 1/4"

1 1/2"

1 1/2"

1 1/2"



Sound Pressure Level at 1m dB(A)

44~56

45~58
45~58
46~59
47~60
Operation Range (°C)
-25~43
Max. Outlet Water Temperature (°C)
60

Water Proof Class

IPX4

Electricity Shock Proof

Ⅰ




Net Dimensions (L×W×H) (mm)

1338 x 450 x 1320

1338 x 450 x 1500